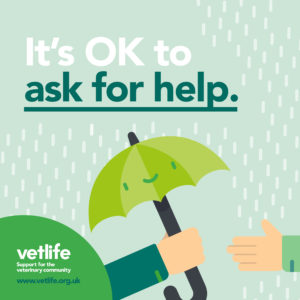 Today (10th September) is Suicide Prevention Day, and we want to take this opportunity to ensure that the veterinary community are aware of the support available all year round.

You are not alone
Vetlife is an independent charity which provides free support for all in the profession. Our Helpline is a 24/7 confidential listening service available to support the vet community with anything they wish to discuss, ranging from a bad day at work, to suicidal thoughts. The Vetlife Helpline can also signpost veterinary professionals who need a little extra support to other organisations and services, one of which is Vetlife Health support (VHS).
Vetlife Health Support
The VHS team includes a range of mental health professionals including psychiatrists, mental health nurses and therapists who have years of experience working in mental health. The team carries out an initial assessment in order to understand someone's difficulties and they then work with the individual to provide or facilitate any ongoing care they need.  VHS has been run by the psychological health consultancy March on Stress Ltd since April 2017.  Over the last two and a half years, VHS has received over 400 referrals who have been directly supported and, where needed, have been assisted to access appropriate mental healthcare.
Professor Neil Greenberg from March on Stress said: "A busy veterinary career can bring with it many challenges which can sometimes lead to mental health issues. Some studies suggest that up to one third of those in the profession may have psychological wellbeing difficulties at some stage. Unfortunately, people who experience significant mental health difficulties are at increased risk of suicide. This may in part explain why the suicide rate in vet professionals is elevated compared to the general UK population.
"Whilst the reasons leading to someone ending their life are likely to be complex, efforts to both improve the mental health of vets and to ensure that those who do unfortunately develop mental health problems can access professional care are likely to reduce the risk of people dying by suicide."

Professor Neil Greenberg
How to access Vetlife Health Support
Contact with VHS begins when you either call the Vetlife Helpline on 0303 040 2551 or email via the Vetlife website. Experienced Vetlife Helpers are available 24/7 to respond.  If it appears that you might benefit from the expert help of VHS, then they will ask you if they can refer you on.  This involves gathering a few simple pieces of information (e.g. name, contact details) to pass onto VHS.  Alternatively, they will give you the option to self-refer, by emailing the VHS team direct.
Once the VHS team has received your referral details from the Helpline, two initial things will happen: firstly VHS will contact you within two working days to set up a time for the initial interview which will be done remotely over the phone or through Skype or similarly. It is important to note that VHS is not an emergency service and primarily operates during routine office hours.  Secondly, you will be registered with the VHS Wellness Service and will receive an email containing a link to a short survey which helps the team when you come to have your initial assessment.
After the initial interview with a VHS professional, the team may offer health and lifestyle advice with supporting literature if appropriate, recommend evidence-based therapy which they will help you to organise or if you have a short-term need then the VHS team may provide the support directly. Whatever course of action you decide to take, the VHS team will support and guide you through it.
Confidential service
Vetlife Health Support is a confidential service, just like when you visit your GP. The team will not disclose any identifiable details of their contact with you, unless there is a risk of harm to yourself or somebody else or you wish us to do so.
Anyone in the veterinary community concerned about a family member within the profession or a work colleague can contact Vetlife Helpline for advice. Such discussions will be completely confidential.