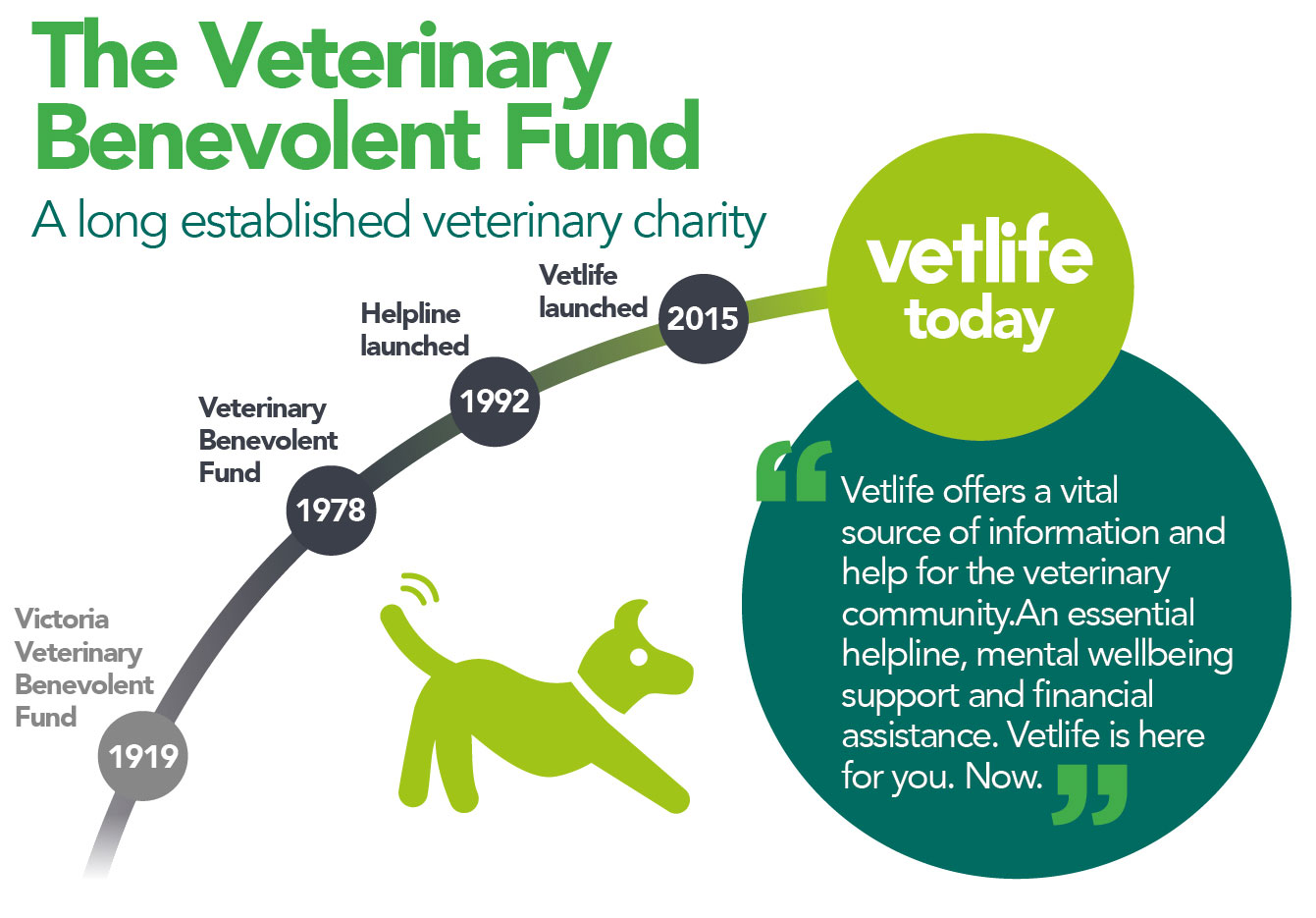 For over a century, our Charity has been providing support to the veterinary community.
1865
'The Veterinary Mutual Defence Society' was founded in Manchester by a small group of Veterinary Surgeons.
1867
The society was divided into two, and renamed 'Mutual Defence Society', and the benevolence component was named 'The National Veterinary Benevolent'. Each time £500, from members' subscriptions accumulated in the defence fund, £400 would be transferred to the ring-fenced benevolent fund, for the relief of widows and orphans of unfortunate members of The Society.
1897
A separate fund called 'The Victoria Veterinary Benevolent Fund' was established. The name 'Victoria' was chosen to commemorate Queen Victoria's 60th Jubilee that year. The society made some updates to their rules and extended its benevolence to non-member veterinary surgeons and their dependants.
1978
The two funds were merged to become The Veterinary Benevolent Fund (VBF).
1992
Vet Helpline was set up as a listening service run by a handful of volunteer vets, and was initially funded by RCVS and BVA.
1998
The Veterinary Surgeons' Health Support Programme (VSHSP) was established. Its initial purpose was to provide support and treatment for vets facing allegations of professional misconduct as a result of the misuse of alcohol, other substance abuse and/or mental health problems. Funding was provided mainly by RCVS, with additional significant annual contributions from VDS. Both organisations have continued their generous financial support as VSHSP has evolved into Vetlife Health Support, which now offers a much broader, totally confidential, service.
2005
Vet Helpline and VSHSP were taken under the wing of VBF when all three organisations merged as a single charity.
2015
VBF was rebranded as Vetlife with its three integrated component functions becoming: Vetlife Helpline, Vetlife Health Support, and Vetlife Financial Support.
2022
Revised Articles of Association adopted by charity membership, embracing registered veterinary nurses as an integral part of the veterinary professional team and changing the official registered name from the historic title of the Veterinary Benevolent Fund to that of Vetlife.