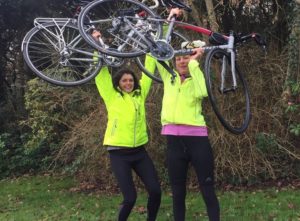 Superstar vets Anna Jennings and Gemma Ives are embarking on a mammoth 1000 miles cycling challenge in memory of vet friend and colleague Rita. The determined duo are aiming to raise £5,000 for Vetlife through their fundraiser called #RideForRita.
Anna and Gemma are planning to cycle from Land's End to John O'Groats as a tribute to former colleague and friend Rita Mesquita, who worked with them at Seadown Veterinary Services an sadly died after experiencing depression last year.
The pair described Rita on their fundraising page as one of the best vets they had ever met, who "went above and beyond both for her own patients and clients, but also to help her colleagues".
They go on to explain that Rita was "always able to brighten the mood", and that her death left "a huge hole in the lives of so many who adored her."
Support for the veterinary community
Through cycling the length of the UK, Anna and Gemma are hoping the funds raised for Vetlife can help support those in the veterinary community who are struggling with their mental health.
Gemma, who says she has contacted the Vetlife Helpline on several occasions, says that each time she called, Vetlife "provided a supportive and listening ear, and our conversations left me feeling calmer and more settled in myself."
Donate or read Rita, Anna, and Gemma's story here.
Planning your own Vetlife fundraiser? Learn more here.
If you need to talk, call Vetlife on 0303 040 2551.