Vet Nurses Sarah Taylor and Zoe Daley are encouraging the veterinary community to discover their creative side with The Crafty Vet Project.
Sarah first discovered the mental health benefits of crafting whilst working towards her GradDipAVN diploma when her stress was at an all-time high. She was gifted a cross stitch kit from her mother as a way of de-stressing.
"One evening after a seriously rubbish working day and screwing up several essay drafts I picked the kit up. I stitched a few squares, then I did a few more. After a couple of hours, I realised that I hadn't thought of a single thing other than that pattern since I started, and it was bliss. I have been hooked on cross stitch ever since."
Sarah and fellow Vet Nurse and crafting advocate Zoe have set up The Crafty Vet Project to encourage others in the profession to take up crafting, not only as a hobby, but also as a tool for relaxation.
"We need to bring mental health out of the shadows."
Having seen and experienced first-hand the issue of stress within the veterinary profession, Sarah was keen to support Vetlife through her brand by donating £3 from the sale of each kit to Vetlife. She says that "We need to bring mental health out of the shadows. Vetlife is such a fantastic charity and one that the veterinary profession is in desperate need for."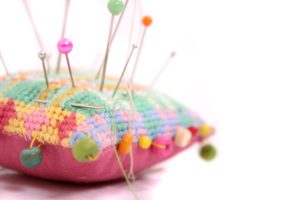 The Crafty Vet Project kits range from cross stitch and crochet, to colouring and calligraphy. There are also more unconventional craft kits, such as beers and bath bombs, cheeses (vegans cheese too!) and soaps.
The craft kits are available on the VN Pet Products website at https://www.vnpetproducts.co.uk/craft-corner
If you are interested in supporting Vetlife through your brand, contact [email protected] for more details.