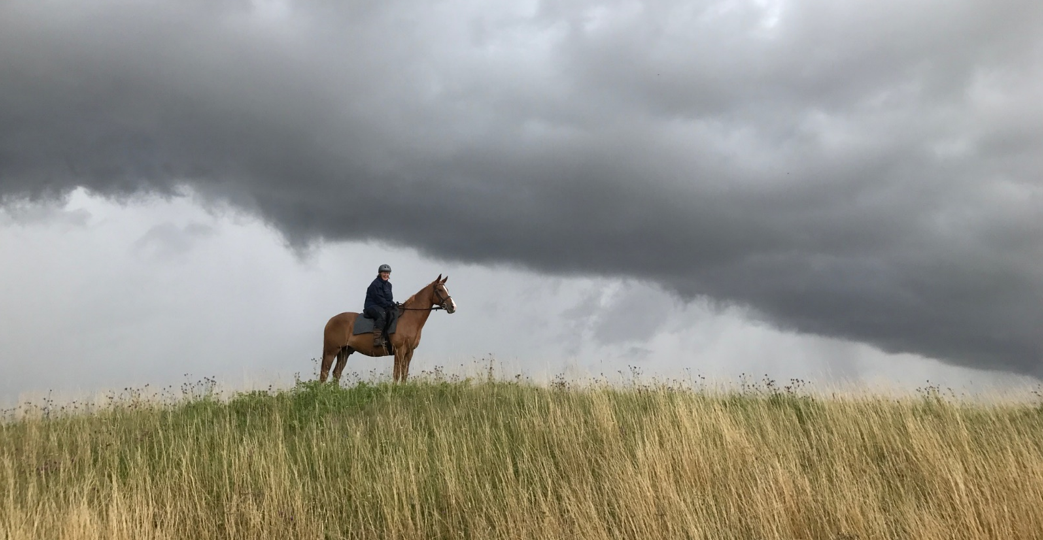 On World Vet Day, 26th April 2022, vet Kate McMorris and her home-bred horse, Marilyn will set off on the adventure of a lifetime.  It's not a journey for the faint-hearted – Kate and Marilyn will be tackling difficult terrain, mountains and moorlands, roads and ravines and unchartered tracks, often facing some of the harshest weather our beloved Britain can throw at them.
But, this is the realisation of a 30 year old dream for Kate who loves the great outdoors, relishes the chance of exploring new country, and confesses her curiosity for knowing what might be 'over the next hill'.  It was when as a veterinary student, she decided to ride her pony Sam 200 miles from Halifax to Hadrians Wall that this dream was originally born. The ride was challenging and it rained solidly for 5 of the 9 days, but she loved it and vowed to ride the length of the UK, one day.
It is believed that this will be the first time, such a journey on horseback has been made by a vet riding solo and Kate promises to share her veterinary insights into the well-being of her horse (and herself) along the way.
Kate takes up the story "The recent pandemic era has also made me realise 'life is short'. We never know what is around the corner? Like many, I've been moved by inspiring stories of human endeavour and wonderful kindness, across the country during Covid. It's stirred me to see what I might also do to help those charities near and dear to me.
I have long been aware that it is the contact with animals – whether it is my horses, cats, dog, even the chickens – that gives me peace and amusement in my hectic life. And I want to help others do the same.
Pets As Therapy is a national charity that strives to ensure that everyone, no matter their circumstances, has access to the companionship of an animal to improve their own health and well-being.
Vetlife is another charity that is close to my heart. They provide a helpline, along with financial and health support to the veterinary profession which has one of the highest suicide rates of the professions. Indeed, they gave myself and my staff amazing support through a difficult time at the practice a few years ago and I would like to raise funds for them so they can continue to help others"
Monies raised from Kate's journey will be directly used to help these two worthwhile charities.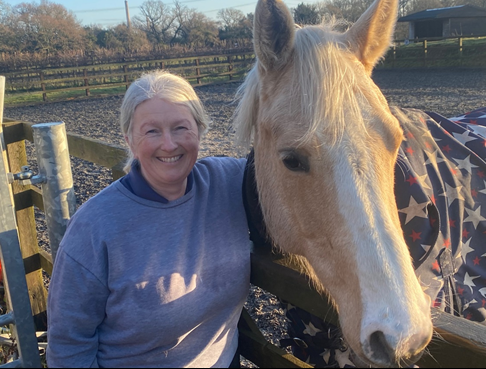 In terms of preparation, Kate has taken it all very seriously and she continues "For Marilyn – I have been taking her to lots of different places so that she does not find it stressful staying in a different place every night. I have been making sure she is not completely routine-bound. She has had physio/osteo, farrier, dentist, saddle fitter and dentist appointments. And we are increasing her exercise, both strengthening with schooling and lunging as well as riding longer distances. We will then be introducing more hill work as time goes on and hope to visit a water treadmill frequently. For myself, I am having dentist, optician and podiatry appointments! I have lost 2 stone in weight so far on a healthy eating kick so that Marilyn has less to carry. And we have bought a treadmill so that I can increase the amount of time I am walking despite it being dark outside!"
Kate has the final word "What could be more appropriate than setting myself an immense challenge, while raising funds for these great causes.  Please do follow me and share my journey.  And if you are moved by my quest and ravings along the way, it would be so appreciated if you'd make a kind donation via JustGiving. Thank you so much, from Marilyn and Me"