10th – 16th May is Mental Health Awareness Week, and we'll be hosting a variety of activities on Vetlife social media pages. Make sure you're following Vetlife on Facebook and Twitter @VetlifeVBF to join in!
2020 was the busiest year on record for Vetlife, with 3,921 contacts made to our Helpline compared to 3,117 in 2019 – a 25% increase.  Many of the Helpline contacts made last year were linked to the COVID-19 pandemic. Similarly, the Health Support service saw a record number of referrals in 2020; a total of 190 referrals were made, compared to 149 in 2019. This comes at a time when a decrease in income has put a strain on charity resources.
When you participate in any of our activities, we're asking you to make a £5 donation and nominate 5 others to get involved. Your support helps us continue to be there for all in the veterinary community who need us. Donate here.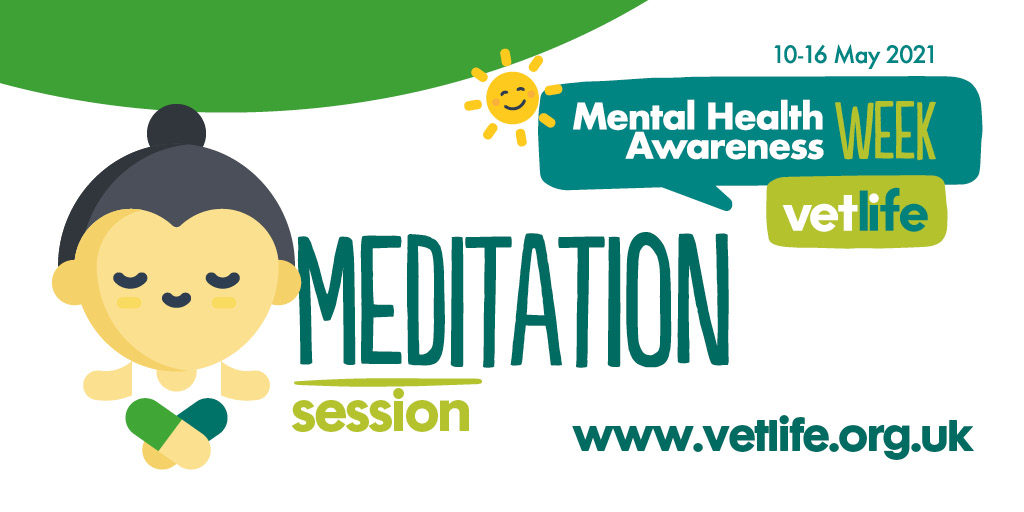 10th May 8pm –
Meditation with
Vet Yogi
Vet and professional yoga teacher Chloe Hannigan will be leading a live Yoga Nidra session on Facebook. Yoga Nidra is a type of sleep yoga, which has been proven with multiple studies for 1 hour to be as restful as 4 hours of regular REM sleep due to theta wave activation. Students are lying down for it so it is less intense than sitting for a long period of time, which can be uncomfortable, plus it is completely guided.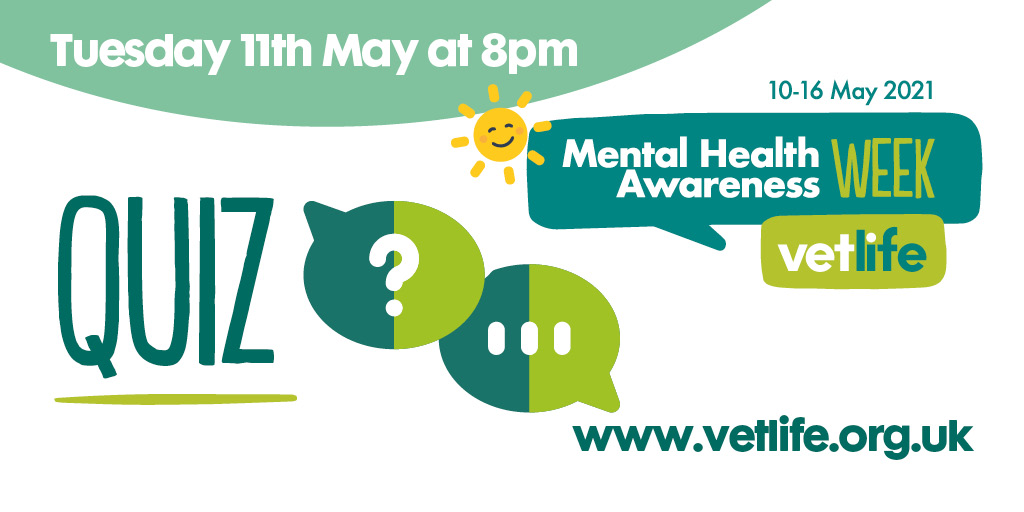 11th May 8pm –
 Virtual Pub Quiz
Get your snacks ready for a fun evening with Trustees Danny Chambers and Paul Horwood who are hosting a virtual pub quiz on 11th May.
Join us for an night of questions and intellectual tests to discover who is the Brain of the Vet Community. There will be a number of rounds on varying topics, such as general knowledge, music, a picture round, and a weird veterinary knowledge round. It might even be considered CPD by some.
Register here.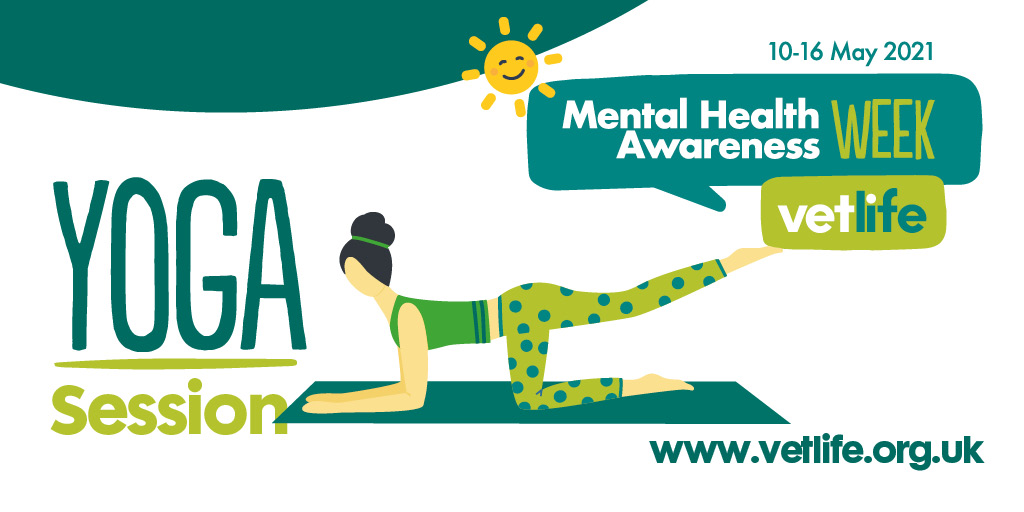 12th May 7:30pm –
Yoga
There will be a Facebook live 30 minute Yoga session led by vet and yoga teacher Sarah Guthrie. The session will incorporate breathwork and mindfulness along with yoga movements which link with mental health. Yoga not only provides a number of physical benefits as experienced in exercise, but can also ease stress levels and boost mental health. All abilities are invited to participate.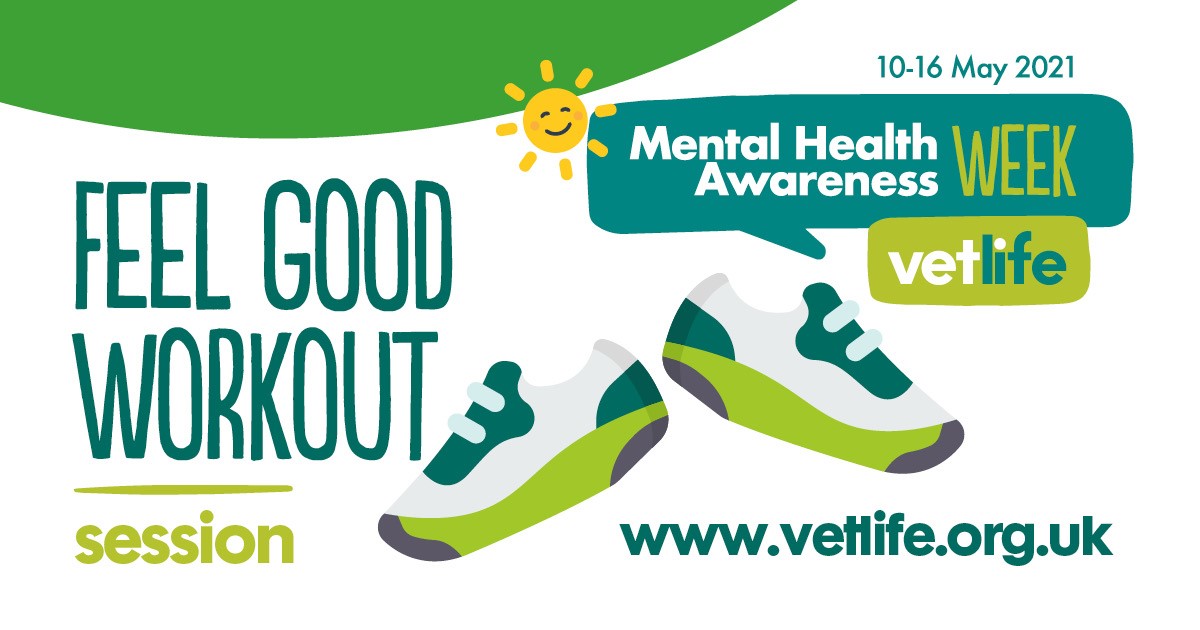 14th May 7pm –
Feel Good workout
Trustee James Russell will be leading a fun tabata workout session for mixed abilities live on Facebook. The session will feature movements to get your body working, as well as a discussion about Vetlife and mental health throughout.
Other ways to get involved during Mental Health Awareness Week
From fundraising, to sharing mental health resources at your workplace, there are lots of things you can do to help this Mental Health Awareness Week. In the Vetlife shop, you'll find free resources such as our going home checklist, posters, and Helpline stickers. The other Vetlife goodies in our shop such as the pin badges, wristbands, and keyrings also help to support and spread awareness of our work.
If you'd like to fundraise for Vetlife, download our fundraising pack to get inspired.